I'm a little late but I'm linking up with Growing Firsties and Teacher to the Core's May Shout Out Linky. I love both of their blogs and appreciate all the great ideas!
Thank you for the opportunity to share some amazing blogs I've found!
My first shout out goes to Carolyn Kisloski at Holding Hands & Sticking Together. She is a talented, experienced teacher with loads of fun things going on in her classroom. I look for her posts every week in the Five for Friday and enjoy her sense of humor. It feels like you're visiting a good friend. Check her blog out, you'll be visiting often!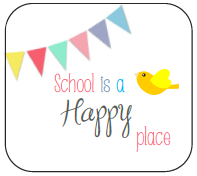 The next shout out goes to Amanda Moore at School is a Happy Place. What a beautiful blog! I love reading her posts and always come away with something valuable. Her blog is very warm, organized and informative. Amanda is a class act and I have a feeling she'll become very popular in the teacher/blogging world! Thanks for the inspiration!